Email from a caller:
I love your filthy mind!!  ….you should get skype to instruct your sluts. Just an idea
My Response:
my ad says "no skype"….reason being: bandwidth. i would have to charge a premium on top of the call rate to cover the extra expense on my internet bill. I live in a rural area and premium internet is a bad joke out here….seriously. But if that changes or I move to a urban area video services(watching only) will be offered without a fee as long if there is a call purchased.
thank you for your feedback:).
Nikki
Lets have dirty live phone sex tonight! We can go anywhere your dirty mind desires.We can have a sexually explicit conversation that leaves you breathless and craving more! You can catch me at niteflirt.com most evenings after 7 p.m. If your in need and you don't see me logged on feel free to shoot me a message on niteflirt.com and if I am nearby my device I will write you back quickly.
Nikki
A big hello to all of you phone sex lovers tonight!
If your bored and bad need of fun give me a call.
I like to chat about these topics:
SpankingFlogging
Extreme Role-Play
Fetish Advice
Cross-Dressing
Object Worship
Men Who Wear Panties
Sexual Advice
Transgender
Just to name a few!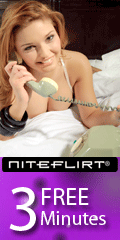 pardon my mess….still working on blog.
Nikki
I will be taking calls after 7 p.m. mountain time tonight!