I am in a serious fem dom mood today so if your up to it give me a call. We can get really crazy so you let your "freak flag" fly with me! A man who enjoys wearing really gets my imagination and hot juices going.

As I slide my hand into your shirt my hot wet tongue darts around in your ear until you beg me to stuff my dirty thong into your mouth then I take my 9 inch.
Call me and we will come up with our own ending for this!
Nikki
Lets have dirty live phone sex tonight! We can go anywhere your dirty mind desires.We can have a sexually explicit conversation that leaves you breathless and craving more! You can catch me at niteflirt.com most evenings after 7 p.m. If your in need and you don't see me logged on feel free to shoot me a message on niteflirt.com and if I am nearby my device I will write you back quickly.
Nikki
A big hello to all of you phone sex lovers tonight!
If your bored and bad need of fun give me a call.
I like to chat about these topics:
SpankingFlogging
Extreme Role-Play
Fetish Advice
Cross-Dressing
Object Worship
Men Who Wear Panties
Sexual Advice
Transgender
Just to name a few!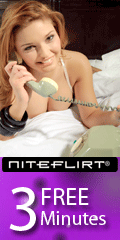 pardon my mess….still working on blog.
Nikki
I will be taking calls after 7 p.m. mountain time tonight!